Incarcerated people are often blocked from using their political voice to change the laws that impact them. As inmates speak out about COVID-19, we are taking this week to explore their political voice and revisit The Marshall Project's ground breaking survey: What Do We Really Know About the Politics of People Behind Bars? Inmates now depend on elected people and laws for their release and safety from COVID-19. Did you miss last week's edition on advocates' efforts to pressure L.A. officials to act? Read up here.
Last October, we talked to Reuben Jonathan Miller, assistant professor in the University of Chicago School of Social Service Administration, about political activism and voting among people impacted by the justice system.
As bipartisan criminal justice reforms pop up around the country, the fight to re-enfranchise people released from prison has grown. Florida gave voting rights back to people with felonies after a long battle, and Colorado returned the right to vote to parolees. The survey dispelled the assumption that voting right restoration would overwhelmingly support Democrats. But it also showed that politics can be a "lifeline" to those inside.
The survey found that "respondents with long sentences were more motivated to vote, more likely to change their political views, and more likely to discuss politics than those who had spent less time in prison."
To Miller this engagement and even activism starts behind bars through lawsuits against various departments of corrections like grievances but also surrounding issues like prison labor rights, and it extends after release. According to Miller, people who are formerly incarcerated feel a higher expectation of civic engagement.
"While the rest of the country's civic participation is declining, the civic participation of this group has been increasing, if anything," he said. People often use the "rep" of their past experiences to affect change.
"While other groups who are disaffected by the political system, feel like their voices aren't heard. This is a group of people who are forcing their voices to be heard. They're saying, we've been excluded. We will not be excluded anymore."
Voting rights matter, but often people impacted by incarceration are focused on more direct issues than national candidates. Miller said that expressions of political power often are seen around specific issues such as laws surrounding record expungement, treatment of pregnant women behind bars or the election of an especially punitive judge.
"These big ticket items matter to them. They do. But there's also a reality that also matters to them. The reality is that there are forty eight thousand laws, policies and administrative sanctions that target people with criminal records that exclude them from the political, the economy and culture of the cities, suburbs, rural towns and villages that they live in."
Read about this man's voting rights journey in prison [The Marshall Project]
---
Back to, you guessed it, COVID-19
Watch this CBS segment on the coronavirus in prisons.
---
News: it's inside
Higher than Rikers: A Michigan prison faces a 10 percent infection rate, the highest in the country. [Detroit Free Press]
Cut short: A man sentenced as a juvenile almost made it out before dying of COVID-19 in Michigan. [Detroit Free Press]
"[His sister] said it hurts for her brother to die now after 'surviving 44 years in prison," when his freedom was weeks away. 'My brother shouldn't have died in there like that,' she said Friday evening."
And, again: Another man died of COVID-19 three days before a break through in his fight for innocence. [Philadelphia Inquirer]
Private facilities: In Colorado, CoreCivic re-entry houses are accused by residents of inadequate responses to calls for social distancing. [The Gazette]
Photos shared by a separate facility's resident shows cramped quarters in late March.
Shocking transparency: In Florida, Geo Group Inc. released detailed information about its facility's COVID-19 deaths in stark contrast with the state's refusal to release information.
CoreCivic is also doling out $500 bonuses to staff due to the virus.
Not the same: CoreCivic also runs ICE detention centers that aren't reporting positive cases. [Texas Observer]
Sign for a mask: People in detention were asked to sign contracts before receiving masks. [The San Diego Union-Tribune]
Detained and exposed: Listen to the difficulties facing asylum seekers held by the government. [Reveal]
Paying to talk: Demands to make communication from prisons and jails free and affordable for families has risen as visitation is restricted. [Slate]
Not good, at all: D.C. has its first death in jail as inspectors ream the city for conditions. [Washington Post]
Overcrowded virus: The first inmate in Alabama died spelling the start of an overcrowded nightmare in the state's prisons. [AP]
Note: While advocates call for mass releases in the state, the governor just extended the deadline for the $900 million contract to build three new prisons to mid-May. [Correctional News]

Prisons will accept inmates from jails. [AL Reporter]
Live: Watch this inmate from Alabama talk on his charges and give a tour of his crowded prison. Inmates are pushing out footage from inside all over the country. Read more here about the New Jersey video below.
Unstoppable: The federal system continues to be swept by the virus. A second California federal facility with the second highest number of inmate cases saw its first death on Friday from the virus. Early this week, it was reported that an inmate was released from the same facility only to die from COVID-19 [Santa Barbara Independent]
Lack of effort: Guards in NYC reported that positive cases are being transferred back to mingle with general population within days. [The Intercept]
"Potential": The first "potential" federal prison staff death from COVID-19 was reported in Atlanta. Her death has not been listed on their site's case tracker. [CBS]
On Friday the BOP reported, a total number of 21 inmate deaths and positive tests from 479 federal inmates and 305 staff. Oakdale continues to have the highest number of deaths.
Oversight: The Department of Justice is stepping up oversight of federal facilities as the virus spreads. It has a poor record of engendering change from its findings. [AP]
In the dark: Families are being kept in the dark as to their loved ones face "chaos". [The Intercept]
Hide the bodies: Four inmates are reported dead in Florida from COVID-19. [Orlando Sentinel] The state hid two of the deaths. [Miami Herald]
Latest death news linked by state or facility: Virginia; Chicago,IL; Butner medium FCI I; Mississippi; Connecticut; Ohio; Elkton FCI; Illinois
---
Non-virus to knows
Police shootings: Colorado is fifth in the nation for fatal law enforcement shootings, the state is asking how to better investigate. [The Colorado Sun]
Paying to be indigenous: It cost one indigenous defendant five times that of a non-indigenous defendant in Australia to face a case. [Brisbane Times]
Investigation: In a New Jersey prison, women endured years of sexual abuse according to a DOJ report released Monday. [New York Times]
Reform: Colorado banned the death penalty earlier this month, the 22nd state to do so, and ended prison gerrymandering last week. [5280.com]
Warning-Graphic: These photos leaked last month show horrific violence in the Alabama prisons. [WFSA]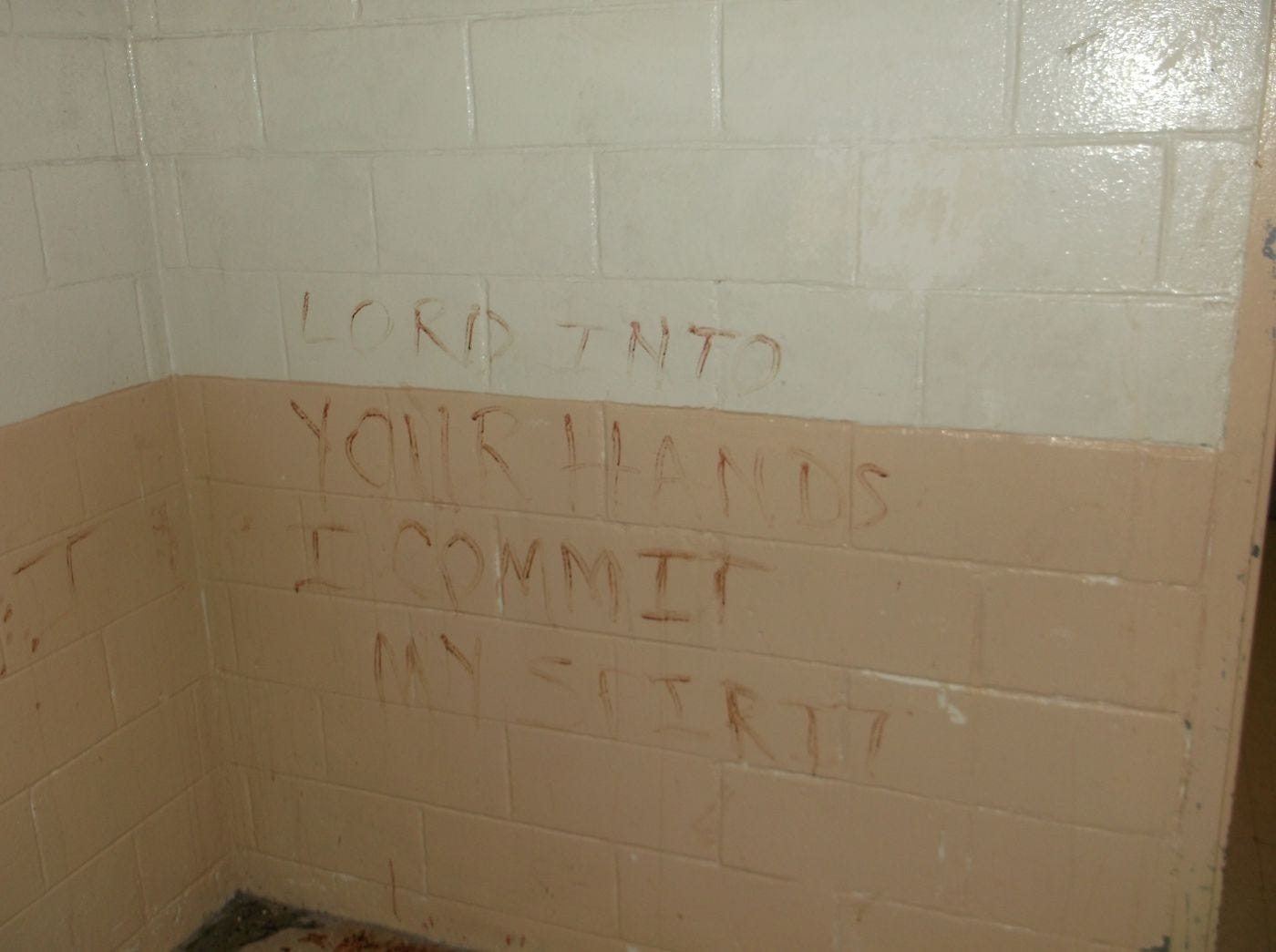 Photo: SPLC
---
We're ending this week with a must read from Southerly about prison labor supporting the Louisiana oil and gas industry. [Southerly]
"Though they only constituted about 3% of prisoner job placements that year, offshore jobs are generally among the most lucrative for work release operators, who get to keep a large portion of prisoners' wages."

"In 2015, operators across all work release programs in Louisiana made $35.5 million from prisoner wages, in addition to per diem payments the state gave for each state prisoner and millions from commissary sales to their captive clientele."
---
We want to hear from you about how COVID-19 is impacting you and the people connected to you. What is not being talked about? What story do you have that needs to be heard? Who do you want answers or explanations from? Please reach out to lj@dawsons.us.
---
---
The Des drops into your inbox weekly with a collection of small and digestible snippets concerning the criminal justice system. It promises to be humanizing, spunky, and educational. Our name: The Des is short for Desmoterion or "place of chains", used to describe prisons in ancient Athens. We like the idea of the chains because incarceration expands far beyond bars, connecting all of parts of this country. We are here to cover it all.