This year has not been a reckoning of new issues but of issues entrenched in the structure of America from COVID-19 to white supremacy. Racism and violence against people of color especially Black people perpetrated by white people permeates this country's history. The criminal justice system, from the origins of law enforcement as slave patrols, to the "New Jim Crow" has wreaked havoc on communities of color. This summer the renewed and expanded outrage of racism within law enforcement is a symptom of a larger fact: that for centuries the justice system in America has not been blind, it has seen color and acted racistly because of it.

These systems are heavy and complex to think about and tackle, many of us (such as my white self) are complicit in these systems of racism without even raising a finger due to the enduring privilege of white skin everyday and through our families' history.

It's easy to lose hope and feel as if the battle for justice is beyond grasp. But the justice system also bears out all other inequities in our society. People of poverty, women, undocumented people, people without homes, transpeople and the most vulnerable are lost in the criminal system. So this week we wanted to bring you a quick bit of Wednesday hope – a little bit of what last week's historic march felt like. Thank you to our two contributors. America is on fire again, but maybe this time it will be rebuilt with love, truth, justice, kindness, empathy and humility.
This is a special edition for free because we love you all. But supporting us is the only thing that keeps us going. No one is making money from The Des (I am a full time reporter as a day job), but there are still costs to producing this newsletter and reporting it. Your support means exclusive access to reported stories, behind the scenes info and our eternal gratitude.
---
Ainhoa Woodley writes about her experience last week at the March on Washington:
Matt Brown / USA Today
A fervent perseverance permeated the humid air of Washington, D.C's Union Station upon my arrival the night before the March on Washington. People communicated with solemn nods while "Black" by Buddy played from a Bluetooth speaker. We moved from the platform into the tense D.C. darkness. It was an introduction to the Capitol that set the scene for the coming morning – enraged yet determined, broken yet united.
Friday morning brought the promise of good trouble and healing anger when we left. It grew stronger as we approached Black Lives Matter plaza, newly painted in the wake of George Floyd's murder, commissioned by the D.C mayor. The hot and damp sunlight did not deter the procession of protestors migrating to the Lincoln Memorial, nor the myriad of vendors selling shirts and face masks, nor the groups handing out free water and goldfish.
In this way, even before our official arrival, the journey to the nation's reflecting pool made it clear that the community was collaborating with one another for the procurement of justice.
Matt Brown / USA Today
The urgency to be among like-minded citizens, sharing a moment of livid harmony as our ancestors did exactly fifty-seven years ago, was extraordinary enough to dissolve the chaotic lines. We were led in all together, taken past the pool to the front of the memorial by the call-and-response: "What do we want? Justice.When do we want it? Now."
For the next hours, the thousands that journeyed by bus, by train and by foot and who came from Illinois to Alabama to New York, gathered beneath the towering elms to revel and remember. I sat on the grass with my legs criss-crossed, leaning forward eagerly, star-struck by the presence of activists and speakers I had only seen in videos.
I kept mental notes of their revolutionary words:
Ayanna Pressley stating that it is possible to legislate justice, and that if it feels unfamiliar, it is because it has never been done in our nation.

Yolanda King declaring that this will be the generation that moves from me to we.

Al Sharpton proclaiming that they may have killed the dreamer, but they cannot kill the Dream.
We moved from Lincoln's feet to Martin Luther King's memorial before the march began, as having never seen it before I wanted to have a moment to myself before the crowds descended. In the calm before the storm of inspired marchers, I gazed up at King's omnipresent resolute gaze, preserved in marble that glistened under the midday sun. I felt impassioned by the kinship I felt with his presence – his vision for our shared humanity.
Matt Brown / USA Today
Then there came the collective sense of power from marching with thousands of people that believe in a communal tomorrow and that justice has yet to be served but can still be delivered: a national community, representing and advocating for each other, sharing sentiments and ambitions, walking together, singing together, chanting together and resting together.
Matt Brown / USA Today
We are an unhealthy people, coexisting in a system that has permitted some to be alive and condemned others to survive. Yet the movement towards justice is something others have learned to recognize, to listen to and to fight alongside. The communal determination of the day had shown that community is how we will transform our nation, and that the original Dream we came for is still attainable.
Ainhoa Woodley (she/her) is an aspiring social justice advocate working in equitable and accessible education with public school students in Philadelphia.
---
Possibly one of the most memorable photos came from the Thursday night during Trump's Republican National Convention speech where protesters held signs representing the death count from COVID-19 in America: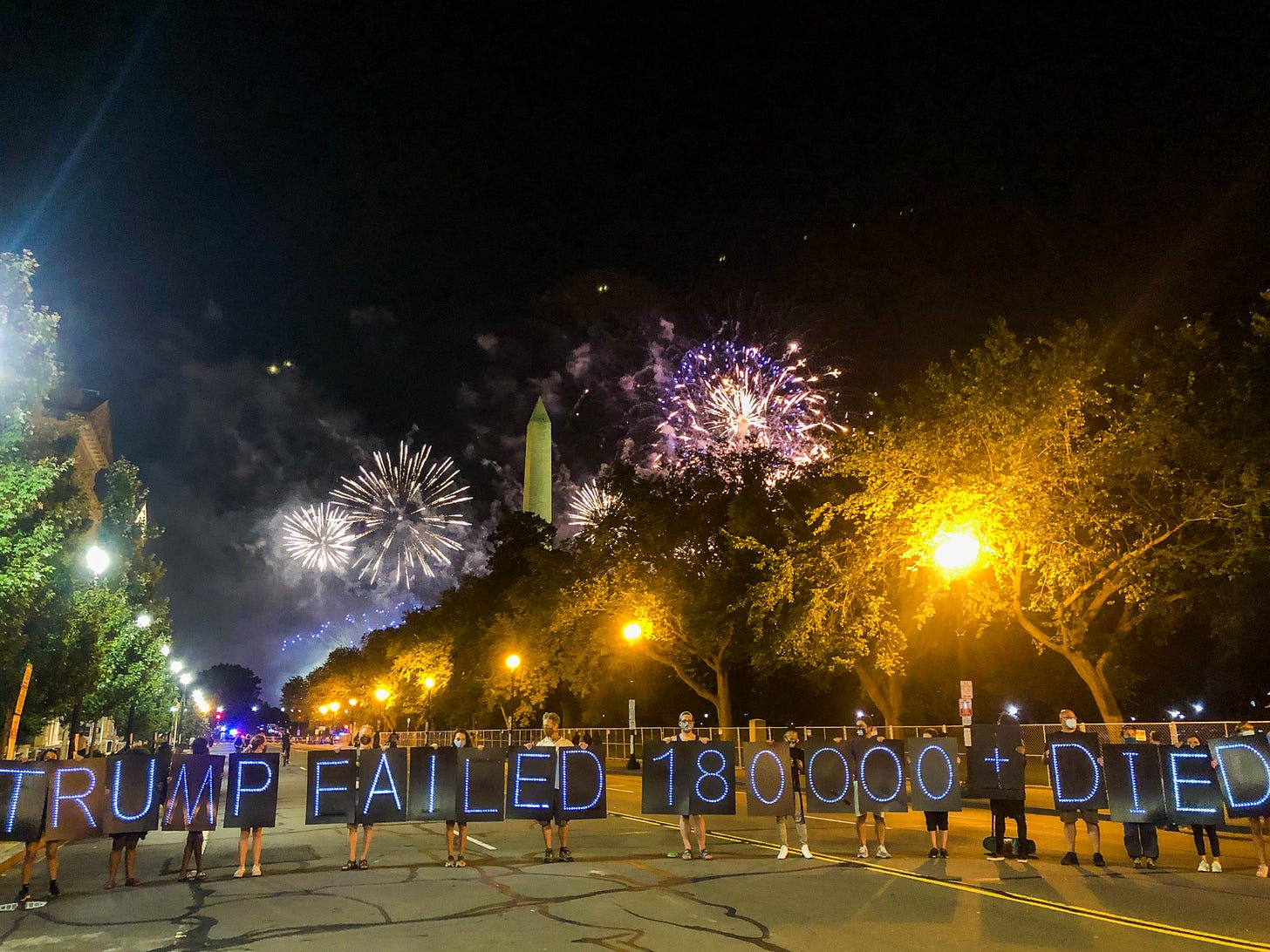 Matt Brown / USA Today
---
Protest News
Charges: Some states are targeted protesters with increased severity of certain criminal charges. People have been charged even with terrorism. It's politically motivated." "Many of these charged protesters are young teenagers. … So they are facing spending their entire lives in prison simply for, in some cases, attending a protest to try and hold police accountable." [The Intercept]
Death: In the last week as protests have erupted and white supremacist counter protesters responded. There have been deaths in Kenosha and Portland. Three shot and two killed by a 17-year-old white trump supporter and Aaron Danielson, a supporter of the conservative group Patriot Prayer, was killed in Portland. More on the suspected shooter here.
A long history: White militia have chummed it up with police for a long time. The shooter in Kenosha walked by a few after he killed multiple people. [HuffPost]
Trump: continues to inflame violence, echoing his sentiments after Charlottesville where he said "You had some very bad people in that group, but you also had people that were very fine people, on both sides", by declining to condemn the white 17-year-old man who shot and killed two people. [NPR]
Biden: who now seems to be running as much on Trumps pandemic failure as the President's failure to calm racial clashes, spoke on Monday, playing into Trump's idea that America is falling into chaos due to protesters, specifically BLM protesters.
" 'I want to be clear about all of this, rioting is not protesting. Looting is not protesting. Setting fires is not protesting. None of this is protesting," Biden said, calling for those responsible for violence and property damage to be prosecuted. "Violence will not bring change, it will only bring destruction. It's wrong in every way.' " [POLITICO]
Most recently: A Black man, Dijon Kizzee, 29, was shot and killed in LA after authorities say he punched a deputy and a hand gun "fell out of a bag of clothing" he was carrying. We don't have the full facts, but the Twitter comments are already falling along the racist tropes of him looking like a thug etc. which to be clear is a stereotype not a fact. Protests have already begun. [AP]
A new guard: Across the country, yet again, a new crop of activists is taking to the streets. In Kenosha, they are called BLAK. [New York Times]
---
Long read: What does it take to actually create and sustain change? "The idea for Black Visions emerged naturally: 'What if we built an unapologetically Black organization with a Black queer feminist lens?'" [The New York Times Magazine]
"When Floyd's death thrust Minneapolis into the national spotlight, Black Visions drew attention as a Black-led group with deep ties to queer, immigrant and transgender communities, and it became the default local organization to support. Links to its donation page materialized on countless resource lists and Instagram Stories, funneling a staggering total of $30 million to the group.

The immediate priority for Black Visions members became to publicly pressure city officials on defunding the local Police Department. They had been working on it privately for years, and Floyd's death only accelerated the urgency. Offline, they were holding nightly calls with City Council representatives, sending them research materials and enlisting allies to do the same, all in an attempt to persuade them that reforms were no longer adequate — an entirely new system needed to be imagined. As a calculated next step, the group invited them to make their commitments known at a rally.

Montgomery later told me that "creating stages and moments" is part of the group's strategy: "Elected officials will be elected officials, and they need to feel their constituent support and feel there's a popular demand around something." Here, she pitched her voice higher and clapped her hands together in imitation of a cheerleader, as she recalled how they cajoled City Council members into attending the rally: "Millions of people across the country are engaging in this conversation, and they're looking toward your leadership.
There is a heavy emphasis on self-care for Black activists in this piece:
"Our strategy is only as strong as our relationships and ability to process what you're experiencing," Hemphill explained.
---
We need to feel grief. If you can, consider reading JESMYN WARD's essay on the unsurmountable mountain of loss and the ever enduring power of love. Take care of yourselves and love strong and now sometimes words are all we have left. [Vanity Fair]
---
We want to hear from you about how COVID-19 is impacting you and the people connected to you. What is not being talked about? What story do you have that needs to be heard? Who do you want answers or explanations from? Please reach out to lj@dawsons.us.
---
---
The Des drops into your inbox weekly with a collection of small and digestible snippets concerning the criminal justice system. It promises to be humanizing, spunky, and educational. Our name: The Des is short for Desmoterion or "place of chains", used to describe prisons in ancient Athens. We like the idea of the chains because incarceration impacts our entire country in every aspect of society. We are here to cover it all.